Year of Award - 2015 (Whitworth Senior Scholarship)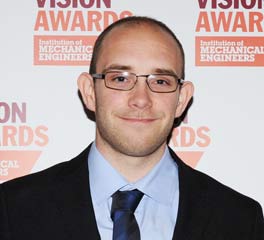 Background
From a very young age I have always aspired to be a professional engineer and this was cemented with the acquisition of my first model makers metal lathe at the age of 12 and a 1962 Series 2a Land Rover at 14. Over the ensuing years under the tuition of my father I was able to gain a thorough grounding in the practical aspects of mechanical engineering, something that would hold me in good stead in future years.
Whilst many of my peers pursued A levels, I decided to take a more vocational root and accepted a technical apprenticeship with Crane Chempharma Ltd winning the regional apprentice of the year competition during the first year, with the aim of ultimately working in R&D. Part way through the apprenticeship I was sponsored through a four year Mechanical Engineering MEng degree at Cardiff University, where I obtained a First Class with Honours, achieving the highest examination results in each of the four years of study, obtaining the following accolades -
Page prize - Highest average examination results 2006/2007/2008
Worshipful Company of Tin Plate Workers prize - Highest examination results in 2006/2007/2008
University undergraduate scholarship award 2007/2008
Dantec Dynamics prize - Best student in fluid mechanics 2008
Evans Llewellyn Davies prize - Highest final year examination results 2009 (MEng)
The Frederic Barnes Waldron prize - Best student award 2009 (MEng)
IMechE - Best student award 2009
Work role & Research Area
Upon graduation I returned to my sponsor and was a key member of the new product development team, and successfully developed part of a new product range. Wanting to develop my knowledge base further I accepted a role at Quadratec Ltd, initially as a Project Engineer and more recently as the Head of Analysis, working on a wide range of complex mechanical and electro-mechanical projects for Aerospace, Universities and Research Institutions. Covering fields such as stress, vibration, fluid mechanics and heat transfer.
Despite having a passion for practical engineering, I've always had an anchoring to continually develop my theoretical engineering knowledge base in as many areas as possible. During 2015 the opportunity arose to undertake a part-time PhD at Bath University to optimise a Cycloidal Rotor System, a novel form of aerospace propulsion suitable for forward flight and vertical take-off and landing (VTOL) applications. Through the development/testing of a sophisticated test rig and advanced numerical simulation.
Aspirations & plans
My current role and PhD study are currently complimentary to one another and act as an aid to further my industrial and academic horizons. The ultimate aim is to develop academic level research in an industrial environment in as wide a range of contexts as possible including novel aerospace propulsion applications.
Benefits of the Award
The Whitworth Senior Scholarship was obtained in 2015, and whilst the financial contribution to study is a bonus. The fact that you are part of a wider community with likeminded engineers, that promote engineering excellence, gives you a quiet confidence in your ability and encouragement when you know people are genuinely interested in your success. This is especially useful during part-time study where the time frames are often extended. One of the aspects that I admire most is that a scholarship is based purely on ability, and cannot be obtained by any other means, which in my eyes makes the awards more prestigious.
With potential skill shortages in many areas, it is important for current engineers to promote engineering enabling the next generation of would be engineers to make informed decisions about their future careers. The Whitworth Senior Scholarship and Society is an ideal platform to be able to develop this.