Year of Award - 2014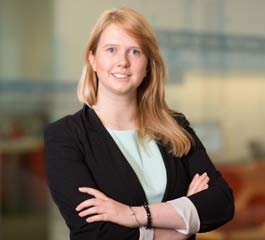 Background
At the age of 17, I gained an apprenticeship with Doosan Babcock Limited in Renfrew, as an Apprentice CAD Technology. This gave me the opportunity to study an HNC in Mechanical Engineering at Glasgow Clyde College (formally known as Anniesland College) along with a Scottish Vocational Qualification level 3 in Engineering Operations Management. Due to achieving an A pass in my HNC I was then granted permission to undertake an HND in Mechanical Engineering which was studied on a day release basis. With this resulting in another A pass I was granted the chance to undertake my degree. By this stage I had successfully completed my degree, had a wide array of industry knowledge and was being nominated by my managers for awards which I was also successful with. I am now at the final stages of my degree with the aim to graduate from Glasgow Caledonian University this year (2017).
Course of degree study
BEng Hons in Mechanical Electronic systems Engineering (Part Time)
Work role
I am currently working as a CAD (Computer Aided Draughting) Technologist and have been since completing my apprenticeship in 2014. I have been fortunate to be involved in a great number of STEM Activities and having involved myself in the introduction of engineering to primary school quite a bit. My everyday roles involve producing 2D and 3D drawings and/or models for the energy section, with most of my experience being based in the Combustion and Pressure Parts sectors. Whilst completing my apprenticeship I had the opportunity to embark on a secondment in Doosan's onsite manufacturing facility (which unfortunately closed this year) and was allowed the chance to solely project manage the shipping and completion of components for Drax Power Station. I have also been heavily involved in the company's requisition processes and have gained experiences in the dealing of suppliers and clients.
Achievements
I was nominated and successful in gaining the following accolades;
1. College Level Hammerman Award (Glasgow Incorporation of Hammermen)
College Level Prince Phillip Award (Glasgow Incorporation of Hammermen)
Apprentice of the Year (IMECHE)
Level 3 Apprentice of the Year (Glasgow Clyde College)
Women of the Future : Young star (women of the future awards)
Scottish Level 3 Apprentice of the Year (Skills Development Scotland)
Scotland's overall Modern Apprentice of the Year (Skills Development Scotland)
SQA Special Award (Awarded at College Graduation)
Scottish Regional Apprentice of the Year (ECITB)
Whitworth Scholarship Award Holder (Whitworth Society)
Aspirations & plans
I aspire to successfully complete my honours degree with the possibility to further my education by embarking on a Master's degree. Career wise I am interested in positive leadership and would like to experience more of project management. With the way in which the world is revolving towards a more eco-friendly power generation, I am also interested in learning about more advanced green energy solutions and seeing the way in which these evolve in the future. I have had a very active role in STEM activities and encouraging young females into Engineering. This has been put on hold a little bit as I have been completing my degree but I am hopeful that I can continue with these activities from now onwards.
Benefits of the Award
The award has been beneficial in the support network that it involves. Unfortunately due to the timing of the winter and summer meet ups, and them all occurring in England, it has been difficult for me to attend; however I know that the support is always there and have met some well experienced individuals throughout the entire process.
My impression / experience of the Whitworth Society
The Whitworth Society, in my opinion, is incredibly supportive. The initial progress updates were daunting, however the feedback has always been constructive and it has been good to feel supported from both my employer, the IMechE and the Whitworth Society.