Year of Award - 2016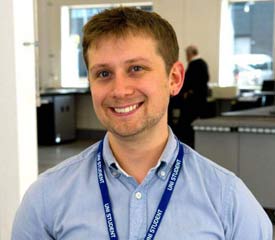 Background
I'm originally from a small town near Blackburn in Lancashire. I enjoyed school but had no firm ideas of what I wanted to do and so, I think like a lot of people, I decided to go to university based purely on the fact that I enjoyed and was good at certain subjects. I studied English Literature and Language at Oxford and graduated still not really knowing how I would use my degree.
I thought about my other interests and, without really expecting anything to come of it, decided to apply for an apprenticeship with BAE Systems in Barrow-in-Furness. I was therefore quite surprised when, after aptitude tests and interviews, I was offered a place on the scheme. Not having any background in maths or engineering beyond secondary school I started at the bottom, but over the course of my time I moved around the business and learned a lot. I honestly feel that apprenticeships are one of the best ways to develop a profession or trade and am very grateful that I was given the opportunity.
Course of degree study
I'm currently studying for a degree in Mechanical Engineering at the University of Lancaster having completed my NC and HNC at Furness College in Barrow-in-Furness.
I've benefitted from teachers with both academic and industrial backgrounds, meaning that while my understanding of maths and the theory behind engineering has developed substantially, I've also been shown the importance of attending to the application and practicalities of the work that I do.
Work role
I'm currently working with the Seatings and Mountings team on the 'Dreadnought' class of nuclear submarines. My activities centre on ensuring that the submarine and its systems continue to work in such a way that the boat remains operable after a shock event. Additionally I design and provide qualification for systems used to mount equipment that might otherwise generate noise, in order to attenuate that noise and ensure that the boat stays quiet and undetected.
Shock events might be caused by, for example, the detonation of a depth charge in the boat's proximity. The consequence of this is that the structure of the boat is rapidly accelerated. Equipment, if not properly mounted, effectively becomes a projectile and a mass of only a few kilograms suddenly weighs several tonnes. Furthermore, unless properly accounted for, vibrations from machinery can propagate and amplify through the boat's structure. My team works to ensure these eventualities are engineered for and mitigated.
It's a source of pride knowing that the technology we use was pioneered in Barrow and was an innovation that enabled the UK's first nuclear powered submarines to lead the field in terms of discreet operation. It was later adopted by the US, but our work means that the UK's submarines continue to be some of (if not the) quietest made.
Achievements
Other than being awarded the Whitworth Scholarship, I've also been nominated for the National Skills Academy for Nuclear Apprenticeships award and am currently a finalist in the 'Love Barrow' award, an accolade that recognises contribution to the local community.
I was elected to become a council member on the Barrow and District association of Engineers, a group which seeks to promote engineering in the local area through the organisation of lectures and awarding of Bursaries and Scholarships for local students.
I'm also a member of the UK Project on Nuclear Issues, a cross generational network which encourages scholars and professionals to engage with established experts on contemporary nuclear subjects and is part of the Royal United Services Institute.
Aspirations & plans
In the immediate future, I'm hoping to develop my role in the business while continuing to further my understanding of engineering by completing my degree and hopefully going on to undertake an MEng. Alongside the development of other UK-SPEC competencies this would open the way for applying for chartered status.
Further into the future I would like to continue my education, perhaps with a view to moving into Nuclear power generation. I've a particular interest in the promise of fusion power and am currently researching my thesis on the current state of materials development for plasma facing components in fusion devices.
Benefits of the Award
Despite the fact that I've been the recipient of the award for less than a year, I've already experienced numerous benefits. At a recent meeting, organised by the Dr Howard Stone, vice president of the society, I found myself exploring the workings of a recently completed CHP project at Somerset House in London. It was an interesting insight I that I couldn't have hoped to have otherwise.
The Whitworth Society also encourages communication and networking amongst its beneficiaries, an example being that while speaking to other awardees I've been alerted to the Brathay Apprentice Challenge, a competition that I hope to promote within my company in the future. The financial aspect of the award has allowed me to purchase software and subscriptions to journals such as the Journal of Nuclear Materials and Nuclear Materials and Energy which are proving very useful for my degree.
My impression / experience of the Whitworth Society
I would imagine that, when called to interview, most applicants for the award were pretty nervous. However, even though at one point I was being asked questions by six panellists, it was apparent that they were genuinely interested in my thoughts and opinions regarding engineering and the challenges that the community faces. It was obvious that there was a real depth and breadth of understanding held between the interviewers, and though the questions were challenging, they seemed designed to discover the foci of my knowledge rather than the gaps in it.
On the awards day, the variety and talent present in the room was inspiring. Combined with the grandeur of the setting of the IMechE in Westminster, there was a real sense of the prestige and history of the Society.
My experience so far has been very positive. I've always been made to feel welcome and I think the Society's values of promoting both the practical and academic aspects of engineering are well aligned with my own. I feel very fortunate to have been chosen for a scholarship and look forward to the time when I'm able to contribute to the Society.