Year of Award - 2013 | Elected Scholar - 2016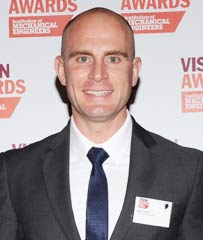 Background
Prior to degree study, in 2005 I embarked on an Advanced Apprenticeship with Babcock Marine in Fabrication and Welding. This was a four year Apprenticeship that required me to complete an NVQ level 2 in Performing Engineering Operations, NVQ level 3 in Marine Engineering - Structural Steelwork, City and Guilds Level 2 in Applying Engineering Principles and City and Guilds Level 3 in Engineering -Fabrication & Welding.
These vocational qualifications were supported by evidenced on the job learning within various departments including: Warships, Nuclear Submarines, Factory, Superyachts, Lifeboats, All-Terrain Vehicles, Composites and Design.
On completion of my apprenticeship I studied for a HNC in Marine Engineering followed by a FdSc also in Marine Engineering, I also gained promotion to a Project Engineer for HMS Vengeance Long Overhaul Period & Refuel (LOPR), which was a 3.5year long period where the Nuclear Submarine was docked down, stripped and rebuilt.
Course of degree study
BSc(Hons) Mechanical Design & Manufacture
Work role
Business Support Manager - Astute Class Submarine DMP Programme
Achievements
2016 BSc(Hons) Mechanical Design & Manufacture - First Class
2014 FdSc in Marine Engineering - with distinction
2013 HNC in Marine Engineering - with distinction
2009 Worshipful Company of Shipwrights - Queens Silver Medal Award
2009 Babcock Trade Cup winner - Welding & Fabrication
2008 City College Plymouth Best Technical Engineering Studies Student
2007 & 2008 EEF Apprentice of the Year - Southwest England
2007 Institute of Sheet Metal Engineering - Winner of best test piece & Best Technical write up
Aspirations & plans
I aspire to become a Chartered Engineer within the next couple of years, I aim to become a Project Manager of small-medium size budget project within the next 5 years and to successfully deliver the project within the time, cost, quality and safety constraints. This would enable me to establish myself as a successful project manager and leader. Following on from this, looking at a longer term view I would like to step up to manage large budget projects.
I would also like to continue to mentor and develop others who are embarking on careers in Engineering and provide encouragement to them to further their academic understanding.
Benefits of the Award
The award has given me access to a network of experts that stretch right across the engineering profession, who have an invaluable wealth of knowledge and experience that can be tapped into at any time. Passing out of my scholarship and being elected a member of the society means that I will maintain this contact throughout my future career, which will undoubtedly provide me with the extra support necessary in helping to achieve my aspirations. I'm also looking forward to passing on my knowledge and experience to other award holders and future scholars.
My impression / experience of the Whitworth Society
A fantastic group of people who over the decades have contributed to keeping the vision of Sir Joseph Whitworth alive. I'm very proud to have been elected a member of the Society, I enjoy looking back and commemorating the work of the great engineers whose contributions are fundamental to the cutting edge Engineering and Technology we see throughout the world as we know it today. Having been through a vocational Engineering Apprenticeship and having developed my technical understanding through extra-curricular learning, I wholeheartedly believe in Sir Joseph Whitworth's vision of 'bringing Science and Industry closer together' and I will endeavour to help continue this quest through my future career.